Transfer Palma de Mallorca Airport to Cala Bona
Why book a private transfer
How to get from Palma de Mallorca Airport to Cala Bona?
If you are looking for a low cost private taxi to get to Cala Bona, You have found it! In Raicars Mallorca Transfers we will be happy to offer you our private taxi transfers services to take you to Cala Bona.
Cala Bona is just 67 km from Palma de Mallorca Airport (PMI). 
With our private taxi services we take you from Palma de Mallorca Airport (PMI) to your holiday accommodation located in Cala Bona and vice versa. 
Our driver will be delighted to welcome you at the airport to take you straight to your holiday accommodation in Cala Bona, with our door-to-door service and one-hour and fifteen-minute trip.  
Rated excellent by real customers
Why book your private transfers with Raicars.com?
What to do in Cala Bona?
Cala Bona is perfect if you are looking to relax with your couple or family in an atmosphere of peacefulness. It is located in the Levante area, in the east of the island of Mallorca. In Cala Bona you can enjoy its marvellous sea port, have a coffee on the coast with the charming sound of the sea breeze and of course, its incredible coves and beaches with turquoise water.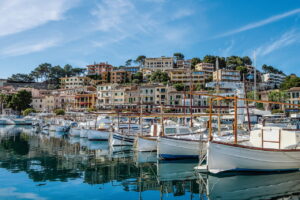 The small port of Cala Bona was formerly inhabited by fishermen who had their fishing boats moored in the harbour. Over the years hotel complexes have been built in the immediate surroundings, attracting tourists to this marvellous corner of the island. Nowadays the port is frequented by many pleasure boats, the typical Mallorcan "llaüts", some professional fishing boats as well as the catamarans that in the summer are used for sightseeing tours along the coast. 
It offers a variety of restaurants of different cuisines (Spanish, Italian, Asian…) with all kinds of food for different palates, pizzerias, Chinese restaurants, hamburger restaurants and even restaurants where you can eat a delicious paella, seafood or fresh fish in front of the sea as in the Fonoll Marí Restaurant. 
You can enjoy the nearby rocky beaches and the sandy beach of Cala Bona. In Cala Bona you will also find all kinds of shops that increase the complementary activities, supermarkets, water activities companies, bicycle rental, etc. 
What to visit in Cala Bona?
Cala Bona belongs to the municipality of Son Servera and is only five minutes away by car. It is a small village with 11.000 inhabitants, every Friday there is a weekly market where you can find clothes, utensils, food, flowers… Many of the tourists who visit it do it by bicycle through the bicycle lane that connects Cala Bona with Son Servera. In Son Servera you can also visit the "Iglesia Nueva", an unfinished church that was begun in 1905. 
Other taxi transfers destinations in Mallorca
No matter where you are going. At Raicars.com you will find the best choice for a private taxi transfer from/to Mallorca Airport (PMI).
Take a look below and discover the best destinations in Mallorca with our reliable transfer services.