Transfer Palma de Mallorca Airport to Puerto Pollensa
How to get from Palma de Mallorca Airport to Puerto Pollensa?
If you are looking for a low cost private taxi to get to Puerto Pollensa, You have found it! In Raicars Mallorca Transfers we will be happy to offer you our private taxi transfers services to take you to Puerto Pollensa.
Puerto Pollensa is just 65 km from Palma de Mallorca Airport (PMI).
With our private taxi services we take you from Palma de Mallorca Airport (PMI) to your holiday accommodation located in Puerto Pollensa and vice versa. 
Our driver will be delighted to welcome you at the airport to take you straight to your holiday accommodation in Puerto Pollensa, with our door-to-door service and fifty-minute trip.  
What to do in Puerto Pollensa?
Puerto Pollensa, also known as Puerto Pollensa, is one of the most popular places in Mallorca for tourists coming to Mallorca.
Puerto Pollensa belongs to the municipality of Pollensa with a population of barely 6,600 inhabitants and is located just 6km from the north coast of the island of Mallorca.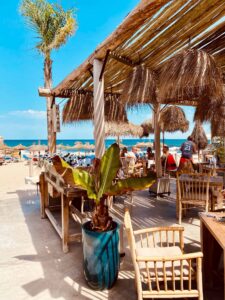 This destination is ideal if you are travelling with your partner, family or group of friends. Once you are immersed in the island of Mallorca and settled in the wonderful Puerto de Pollensa you will have to walk along the promenade in front of the sea, a long route where you will find many restaurants where you can sit down to taste some of the typical Mallorcan dishes or also many other gastronomic delicacies that you will surely want to try.
Close to Puerto Pollensa there is a Spanish military air base and you may be surprised to see some military seaplanes flying over the area and even some land vehicles representing the Spanish army.
If you are an athlete and especially a cycling enthusiast you will surely know that this destination is ideal for you and there are many hotels that will offer you great deals for coming at the beginning of the year to practice cycling and they will make you feel like a professional cyclist. Its location is perfect to start your cycling route and visit some of the most renowned mountain ports of the island such as Sa Calobra or the Faro de F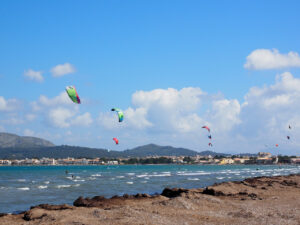 ormentor.
Furthermore, the area in which Puerto de Pollensa is located offers the possibility of carrying out some water activities such as KiteSurfing, KiteBoarding or WindSurfing and its beaches have a gift for receiving from nature the appropriate needs to carry out these activities.
What to visit in Puerto Pollensa?
Puerto Pollensa is home to the most visited lighthouse on the island of Mallorca, the emblematic Faro de Formentor, located in the north of the island. Please note that to get there you will find restrictions that will prevent you from getting there with your own car due to the saturation of the roads and the affluence of tourists who decide to go cycling, so you will have to take a bus from the TIB service that will take you to the lighthouse. Take advantage of the way to see the incredible landscapes that the roads offer to get to the lighthouse. As soon as you leave Puerto de Pollensa, the ascent to the Mirador des Colomer begins, a place where you can access with your own car and stop to contemplate the incredible views of Puerto de Pollensa and the Sierra de Tramuntana.
You should also visit the beaches of Formentor and the exclusive coves that are close by where you can feel the essence of Majorca, enjoying spectacular landscapes, beaches and an unbeatable climate. Near Puerto Pollensa you can also visit Puerto de Alcúdia or the municipality of Pollensa, you can do it by bicycle as there is a bicycle lane that connects the towns.
Did you know that in Puerto Pollensa one of the best tennis players in history got married?
Rafael Nadal got married in October 2019 in the Castle of Sa Fortalessa, a private estate of 87,000 square meters shielded and inaccessible unless you have permission by a private narrow road or by sea. In addition to Rafael Nadal, other celebrities such as Real Madrid's Gareth Bale and Rudy Fernandez have chosen Puerto Pollensa to celebrate their marriage.