Transfer Palma de Mallorca Airport to Alcúdia
Why book a private transfer?
How to get from Palma de Mallorca Airport to Alcúdia?
If you are looking for a low cost private taxi to get to Alcúdia, You have found it! In Raicars Mallorca Transfers we will be happy to offer you our private taxi transfers services to take you to Alcúdia.
Alcúdia is just 61 km from Palma de Mallorca Airport (PMI).
With our private taxi services we take you from Palma de Mallorca Airport (PMI) to your holiday accommodation located in Alcúdia and vice versa. 
Our driver will be delighted to welcome you at the airport to take you straight to your holiday accommodation in Alcúdia, with our door-to-door service and fifty-minute trip.  
Rated excellent by real customers
Why book your private transfers with Raicars.com?
What to do in Alcúdia?
Alcúdia is located in the north of the island, near the coast where you can enjoy its amazing coves and beaches. It is one of the most touristic and demanded villages of the island due to its location near the beach and the proximity to other of the most demanded localities such as Puerto de Pollença, Puerto de Alcúdia or Playa de Muro. 
The town of Alcúdia is surrounded by a medieval wall that was built in the 13th and 14th centuries, you can visit and stroll along the walls walking along its cobbled streets surrounded by typical Majorcan manor houses, you will also find a gastronomic variety to take a break and have a bite to eat.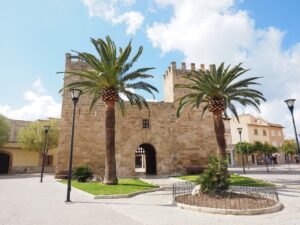 Close to Alcúdia, just two kilometres away there is the impressive Puerto de Alcúdia, from the Port you have the option of taking a ferry to reach Menorca, the neighbouring island which is only one hour and fifteen minutes away, it is ideal to spend a day there and return at the end of the day. 
It is one of the most popular tourist areas for families looking for a place to relax and enjoy the Majorcan sun, as well as offering a wide range of complementary activities. If you like shopping, you will find some shops in front of the promenade. 
If you are travelling with children and want to spend a wonderful day with them, Alcúdia has a water park; the Hydro Park which is open every day from the 1st of May until the 31st of October from 10:00h. 
If you are travelling with your partner, family or group of friends and at night you are looking for a place to have a few drinks and a bit of a party, you will find several discos and pubs where you will have a great time. 
What to visit in Alcúdia?
In Alcúdia there is a Roman city known as Pollentia, the Roman city of Pollentia was founded in 123 BC and for a time it was the Roman capital of the Balearic Islands due to its strategic location and also because of the geography of its coast, where its ports were home to an important naval traffic. It is currently open to the public and is located outside the town walls, near the church. If you are going to visit it, don't worry about the car, there is a car park nearby.
Other taxi transfers destinations in
Mallorca
No matter where you are going. At Raicars.com you will find the best choice for a private taxi transfer from/to Mallorca Airport (PMI).
Take a look below and discover the best destinations in Mallorca with our reliable transfer services.