Transfer Palma de Mallorca (PMI) Airport to Artá
Why book a private transfer
How to get from Palma de Mallorca Airport to Artá?
If you are looking for a low cost private taxi to get to Artá, You have found it! In Raicars Mallorca Transfers we will be happy to offer you our private taxi transfers services to take you to Artà.
Arta is just 72 km from Palma de Mallorca Airport (PMI).
With our private taxi services we take you from Palma de Mallorca Airport (PMI) to your holiday accommodation located in Artá and vice versa. 
Our driver will be delighted to welcome you at the airport to take you straight to your holiday accommodation in Artà, with our door-to-door service and one-hour trip.  
Rated excellent by real customers
Why book your private transfers with Raicars.com?
What to do in Artá?
Artà is ideal to enjoy a stay in Mallorca with your family. It is a charming little village, very pretty and a place that should be visited at least once. It is located between fifteen and twenty minutes away from several tourist destinations by the sea, which you can reach by car or sometimes with public transport or by taxi. 
If you are lucky enough to be in Artá on a Tuesday, you can enjoy the medieval atmosphere of the village and the weekly market that takes place every Tuesday around the streets of the village centre, where you can find: clothes, food, medieval utensils, flowers… You will appreciate sitting on the terrace of one of the many bars that you will find in the vicinity of the market to refresh yourself and rest a little. There is no better way to enjoy Majorcan gastronomy than in the small villages of the island where you will find the typical Majorcan "cocas mallorquinas", panades, cocarrois and many other typical delicacies.
If you fancy enjoying nature and practising sport, in Artá you will find the Parc Natural de la Península de Llevant, where you can walk or cycle along the paths. It is also close to the road to the Ermita de Betlem, well known by cyclists due to its 2.5 km uphill route. 
Did you know that there is a greenway that you can cycle or walk along? 
This greenway has been restored on what used to be a railway line that was in service between 1921 and 1977. It runs for 29 km and connects the municipalities of Son Servera, Son Carrió, Sant Llorenç and Manacor.
What to visit in Artà?
You shall walk through the municipality of Artá through the narrow streets next to the typical Mallorcan manor houses that are still conserved. Artá is dominated by the Sant Salvador Sanctuary which is located on the top of a small hill where there is a large church and from where you can enjoy incredible views of the whole town of Artá.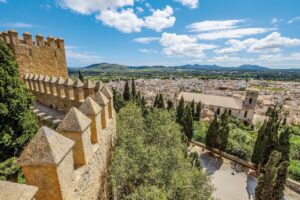 Ses Païsses is a small Talayotic settlement on the outskirts of the municipality that was inhabited between 1100 BC and the 1950s AD. It is considered one of the most complete and well-preserved archaeological sites in Mallorca. 
In just 10 minutes by car you will reach the Caves of Artá, located on the coast near Canyamel or Cañamel, which are worth a visit, the most spectacular of which is a stalagmite of 22 metres high, one of the largest in Europe, located in the "Sala de la Reina" (Queen's Room).
Artá is a small traditional village so if you are lucky enough to visit in January you will find the fiestas of San Antonio which are held between the 16th and 17th of January, and if you visit in summer, you can enjoy the patron saint's fiestas at the beginning of August. 
If you like to practice sport and especially cycling, you will have the opportunity to visit the mountains that surround this locality practising sport and also the chance to meet the current professional cyclist born in Artà in 1995, Enric Mas.
Other taxi transfers destinations in
Mallorca
No matter where you are going. At Raicars.com you will find the best choice for a private taxi transfer from/to Mallorca Airport (PMI).
Take a look below and discover the best destinations in Mallorca with our reliable transfer services.